With Adobe Digital Edition successfully downloaded and authorized it is now time to start reading your first eBook! (Missed that first step? Click Here)
1.) First, you will need to visit Booksamillion.com on your mobile device and change the site to the desktop view. To do so, scroll the bottom and click Desktop Site.
2.) With the website in desktop view click My Account in the top right.
3.) Next, scroll to the bottom and click View Digital Library.
4.) Find the book you wish to download and click Download under the title.
5.)After you click download beside the title, it may say "URLLink.acsm" or "download.acsm". If it asks to download this, say yes. Look to the right of the address bar, you should see a circle with an arrow to Download.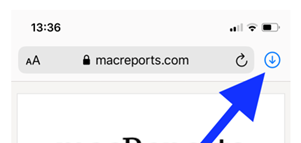 Click the blue circle. Then it will change to a square with an arrow to Export.

If ADE has been downloaded and authorized successfully, it should show as one of the app icons to open the file. If not, click more and scroll to find it
.
-The eBook should then open with ADE.
*The file may have also been sent to your downloads folder on your device. You will need to navigate to this folder and open the file from there.
6.) After selecting to "Copy to Digital Editions" the app will open and your title will be placed on your digital bookshelf ready to read!