During the order process, you may see the status of your order change to Pending. There are a number of reasons status update. Please review the terminology below explaining each status. An automated email is sent the status of an order is updated and will provide the current status of your order. See examples of a backordered and cancelled status update below.
Backordered Email: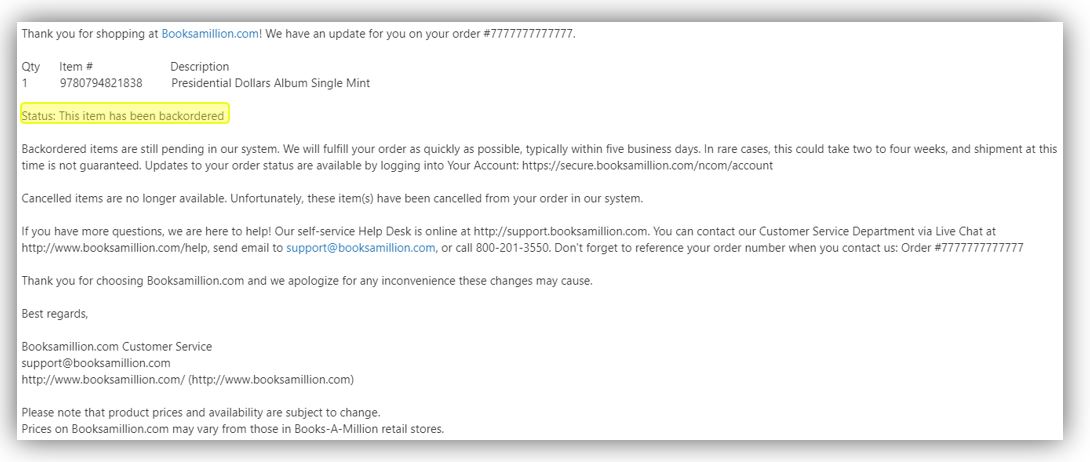 Cancellation Email: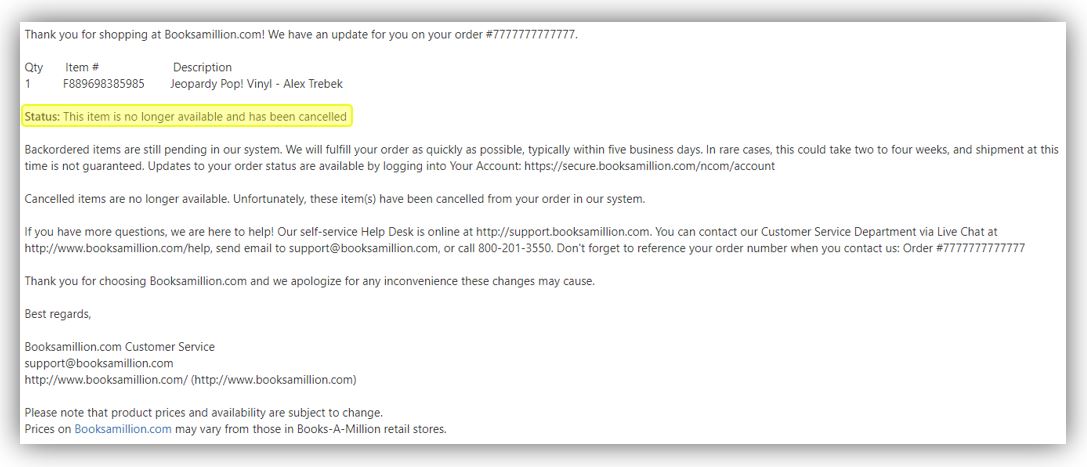 Advanced Titles: Also know as a pre-order title, is an item that is currently available to order but has not been released by the publisher. The currently scheduled release date will be notated on the items store page. Please note these dates are provided by the publisher and are subject to change. The price of the item at the time the order is placed will be the price paid when the item ships. We do not price match or guarantee the lowest price for an item.
Backordered Items: Cannot be fulfilled at the current time due to a confirmed lack of stock at the warehouse. Generally, once an item is placed in backordered status the warehouse notifies the publisher who is then required to send more or confirm the item is currently not in print. Sometimes an item's status on bam.com may state "In Stock" but the item later is placed on backorder. This is due to the website and warehouse system not being up to date with one another or the warehouse's system not accurately reflecting the current quantity.
Limited Availability items: Have not been confirmed as being on official backorder, but due to the small amount of stock the warehouse usually has on hand they may not be able to fullfill orders for large quantities or multiple orders placed closed together. Additionally, when an item is in high demand the system may not be able to keep an up to date count of the current stock.
Customers are not charged for a backordered item unless it is later restocked and shipped. Booksamillion.com only charges for orders when the order ships from one of our warehouses. When a customer goes through the checkout process and clicks "submit" a temporary hold or pre-authorization is applied to the payment method. Based on the card or financial provider this hold can remain as pending on the customer's account for 24-72 business hours.
If a gift card is used in lieu of cash, it would be in the best interest of the customer and the store if the gift card was provided to the customer with their receipt/order confirmation page when the order is placed. The customer should hold onto the card until the order is received.
Cancelled items: Are no longer available. We have attempted to order more stock of the item but have been given confirmation by the publisher the item will not be restocked.
Completed: All available items have been shipped.