If an item is listed as a pre-order item, the release date would be listed on the item detail page.
If we are not given a release date, the item will state "Pre-order now for delivery. Reserve yours today!".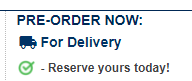 Some manufacturers do not provide the release dates for their items, such as Funko and Squishmallow.