Easy! Simply add the item or items to your cart, continue checkout, and follow the prompts!
Booksamillion.com uses a "Shopping Cart" system that essentially operates the same way a shopping cart does in a retail store: you may place items in and remove them from the cart at any time. An "Add to Cart" button appears beside each item throughout the online store. Just click the button to add an item to your cart!
When you add an item to your cart, you'll be taken to a confirmation page. Once there, you'll have the opportunity to continue shopping. When browsing our site, you'll always have the option of viewing your cart by clicking the "Shopping Cart" button that appears below the navigation menu near the top of every page.
If you'd like to order multiple copies of the same item, first click "Shopping Cart." Then change the number in the quantity field and click the "Update Quantities" button.
When you've finished selecting the items you wish to purchase, click the "Check Out" button to advance to the payment and shipping area.
At the first step of the Booksamillion.com checkout process, you'll be prompted to "Set Up A New Account" or to "Sign In" if you're already a registered customer. When you set up a new Booksamillion.com account, you'll enter your email address and a password. Your password must be at least four characters long and can be any combination of letters and/or numbers.
Please note: once you enter an email address and establish a password, our system will remember that relationship even if you don't place an order. If this is your first time ordering with us but you've previously entered an email address and password, you may want to try signing in as a "Registered Customer."
After entering your email address and password, click "Continue New Account Setup" and follow the steps to enter your shipping information and payment information. Even if you will be paying by gift card or e-gift certificate, our account set-up process requires a valid credit card number.
At the Review step of the checkout process, you will be asked to verify that your order information is correct before order submittal. Here, you'll also have the opportunity to choose the shipping method, select gift options, enter a coupon code, enter Millionaire's Club Member information, or validate/apply a gift card or e-gift certificate.
If you are sending the order to someone else and this is your first online order, you will need to enter their shipping information when you reach the shipping page. If you have ordered before, you will need to select "Store Pickup/Deliver to Different Address" under the address information on the final checkout page: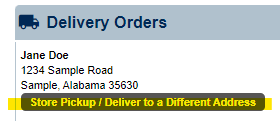 Once you've reviewed your information and are confident that it is correct, click the "Submit" button. At this point, Booksamillion.com will attempt to pre-authorize the charge. The pre-authorization process is designed to better assist you with your order and ensure that your order will not be later delayed by a billing error. You will not actually be charged at this step; Booksamillion.com will charge for orders only after the order actually ships. If the pre-authorization fails when you attempt to submit your order, you will get a billing error message that will prompt you to recheck your billing information or enter an alternate credit card. You will not be able to submit your order until there is a successful pre-authorization.
Once your order has been submitted, you will receive an email confirmation. This confirmation will also contain your Order ID number. You'll want to keep this information in your records, as it will help our Customer Support staff better assist you should you need to contact us.
*Please note: This address will automatically apply the next time you place an order with the same online account. Please be sure to verify and update the shipping address for any additional orders, as this can only be corrected within 30 minutes of order placement.